On the first run of Antamedia Bandwidth Manager, Setup Wizard will configure Database Server IP address, and you will not need to modify anything on this page.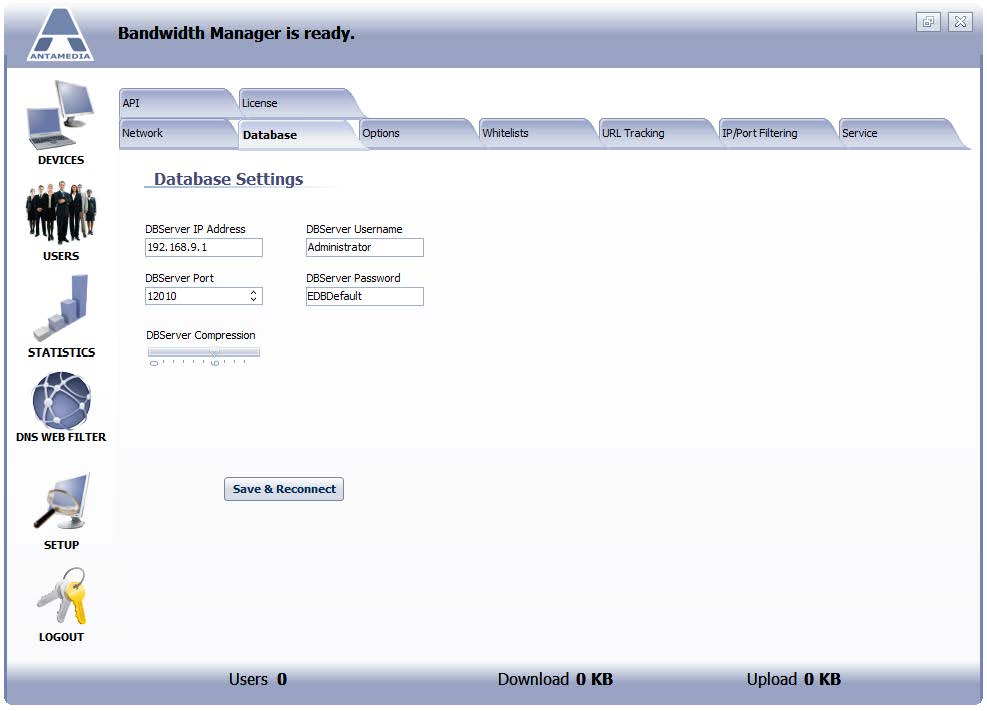 If you have installed Database Server on another computer, please configure a correct IP address.
Database settings page contains the following options:
DBServer IP Address – IP address of the computer where Database Server has been installed. This IP is usually the same as Bandwidth Manager IP address or it uses the localhost IP address 127.0.0.1
DBServer Port – Port used by Database Server. The default port is 12010.
DBServer Username – Database Server username. Default username is Administrator.
DBServer Password – Database Server Password. Default password is EDBDefault.
DBServer Compression – If Bandwidth Manager is connected to the Database Server through the Internet it is recommended to use higher compression to get a faster response from the database. When running on the same computer, the default compression setting (6) is recommended.
Save & Reconnect – Save settings and reconnect software to the Database Server
How to archive the Bandwidth Manager database?
By default all database files are stored in C:\Antamedia\DBServer\Database folder.
To make a backup of database close Bandwidth Manager software and copy Database folder to some other location.