As soon as the computer connects to your Access Point (or switch in case of wired connection) and type any web URL address, the computer will access to Bandwidth Manager network based on the software configuration.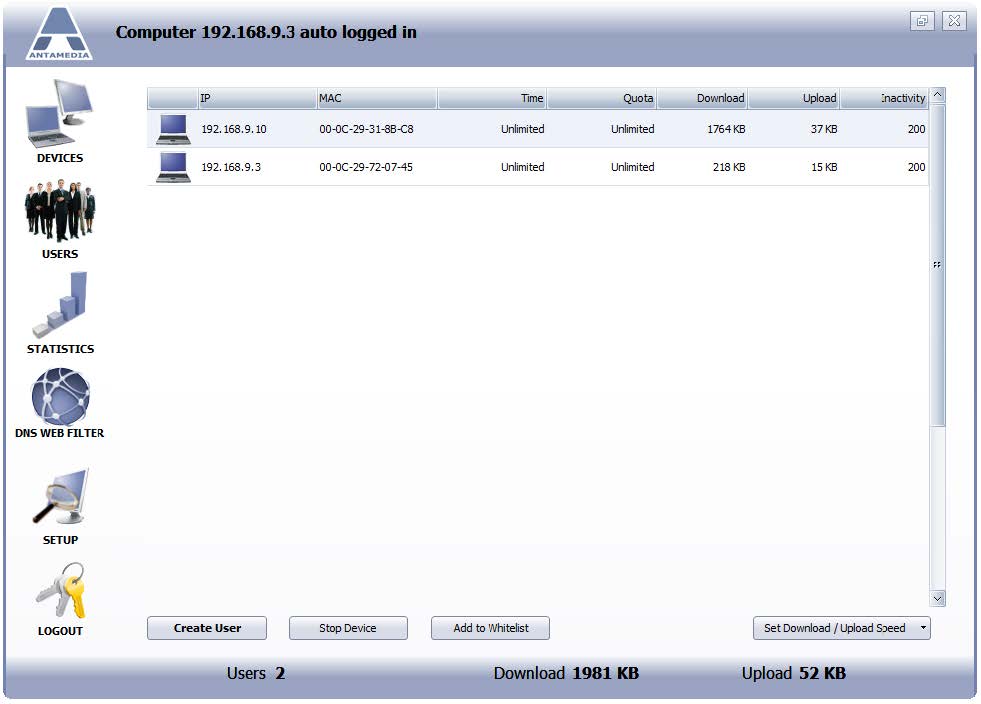 Computers that have an account configured in the software will be controlled based on User settings, while computers without an account will be controlled based on settings configured on Users – Autologin page.
Bandwidth Manager Device panel shows the most important details of connected computers: IP and MAC address, time, quota, download/upload rate and inactivity timeout.
The bottom status line shows a number of connected computers as users and current total download and upload rate represented in KB/sec, and these values are continuously updated.
On top status bar software displays important messages, like users login and logout, so you can always see what's happening in your Bandwidth Manager.
From the main screen  you can choose one of the options:
Devices – Displays (logged in) computers and their current status
Users – Network interface which connects the Bandwidth Manager to your client network
Statistics – Contains log, statistics, and reports, visited URLs and connection log showing who is trying to login in your network
DNS Web Filter – Integrated DNS server uses blacklists to filter HTTP and HTTPS traffic.
Setup – Administrator configuration options
Logout – Lock Bandwidth Manager software to prevent unauthorized activity. Bandwidth manager continues traffic control after the employee or administrator logout.
From the Device panel you can automatically Create User based on current Autologin session, Stop Device, Add to Whitelist or Set Download / Upload Speed for the active session.
If you prefer smaller computer icons, you can switch to compact view and display more computers on screen. Option is located in Bandwidth Manager – Setup – Options – Options page.
Inactivity field is showing remaining time until automatic logout. Inactivity is optional for every account and the default number of seconds can be specified in the Bandwidth Manager – Network page.