In order to control wireless users, Bandwidth Manager software has to be set up on a gateway computer in your network.
For minimal configuration you need 3 devices:
– Bandwidth Manager gateway PC
– Internet modem/router
– Wi-fi device for providing access to users (wi-fi router or access point)
Minimum system requirements for Bandwidth Manager gateway PC
CPU: 2 gigahertz (GHz) or faster 64-bit (x64) processor
RAM: 4 gigabytes (GB)
NIC: 2 network interface cards, for maximum performance we recommend using Intel PRO/1000 (EXPI9400PTBLK) network adapters
OS: Windows Server 2008, Server 2012, Server 2016, Windows 7, Windows 8.1, Windows 10
We strongly encourage you to install the Bandwidth Manager on SSD drive because it can significantly improve software performance.
Most modern computers have one network card built-in, the other one you will need to purchase and install to the computer's PCI slot.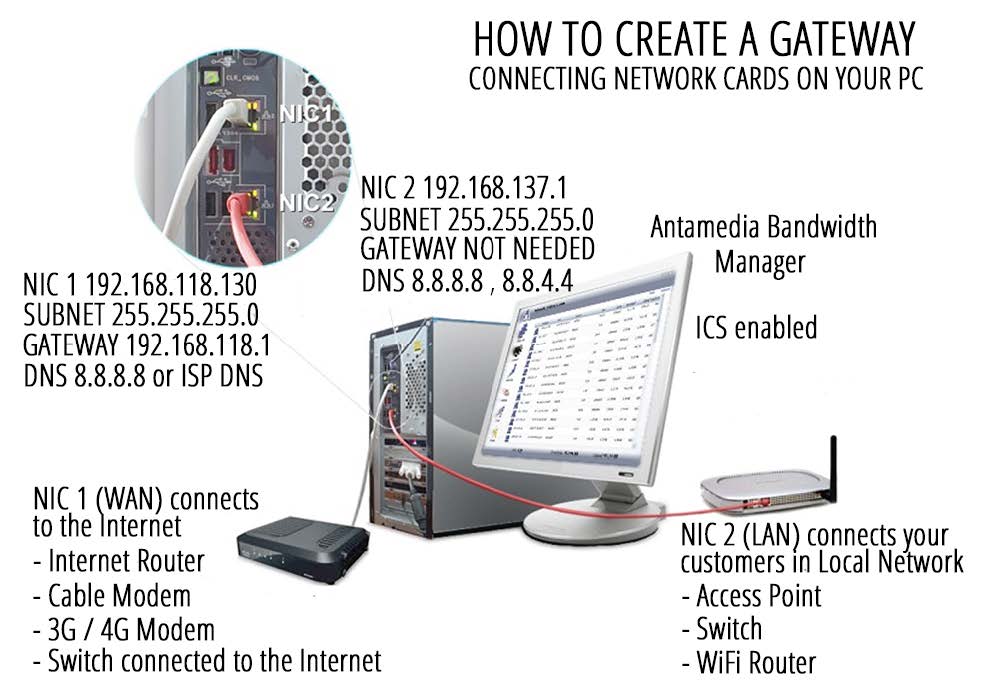 Please connect one network card to the Internet router and another one to Wi-Fi device that your customers will use to access Bandwidth Manager. If you plan to use a wi-fi router to provide access for customers, please connect it to server PC using LAN (not WAN) port.
Note that 2 network cards on the Bandwidth Manager server cannot be bridged, the Internal network has to operate in different IP range than External network.