Program categories and subcategories help organize your Internet and office programs, games, utilities into logical folders, so you can configure the desired usage price.
There are 6 main categories initially configured as Internet, Games, Programs, Media, Utility, and Misc.
Each of the categories can have unlimited subcategories, so you can group them based on specific properties.
For example, in the games category, you can have Racing, Adventure, Action, Board, Strategy, etc.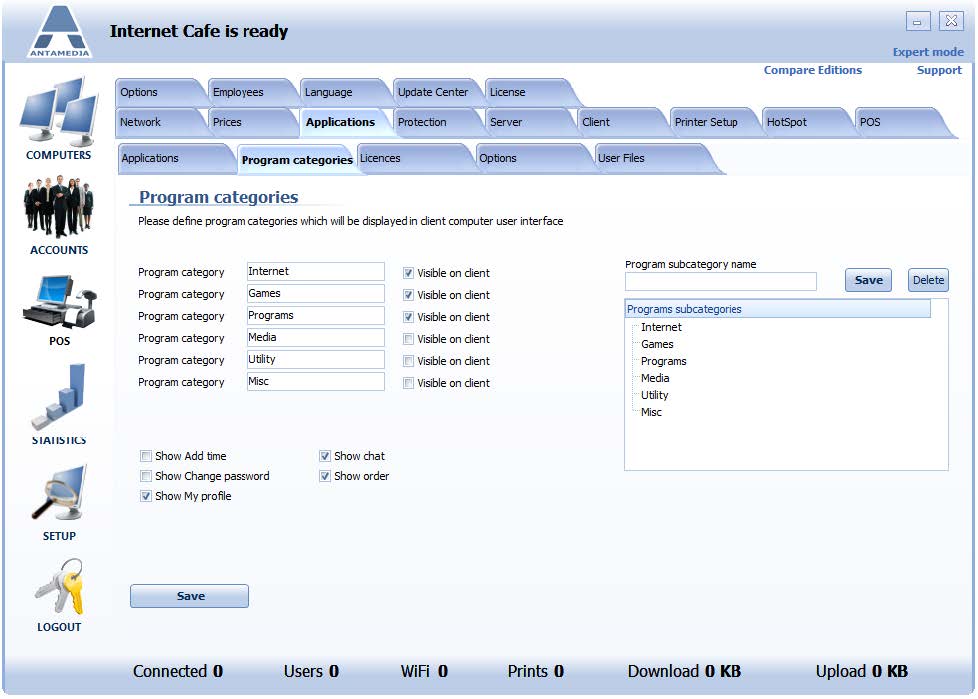 Program categories can be renamed to suit your needs. For each of them, you can select if it's visible on the client computer in the user's menu.
From this page, you can also display other options on the client computer:
– Add Time option allows the customer to refill its account with a refill voucher
– Change Password allows the customer to change its password from the client
– My profile allows the customer to update personal details from the client computer
– Chat can be displayed on the client to help customers communicate with the operator or with other customers
– Order system allows the customer to remotely order a drink or other POS items
– The phone allows the customer to make VOIP calls to any phone worldwide and pay for usage based on the rate you configured. You need Skype installed on each client computer.