Antamedia Secure Browser appearance and general options can be configured from Kiosk – Browser – Design page.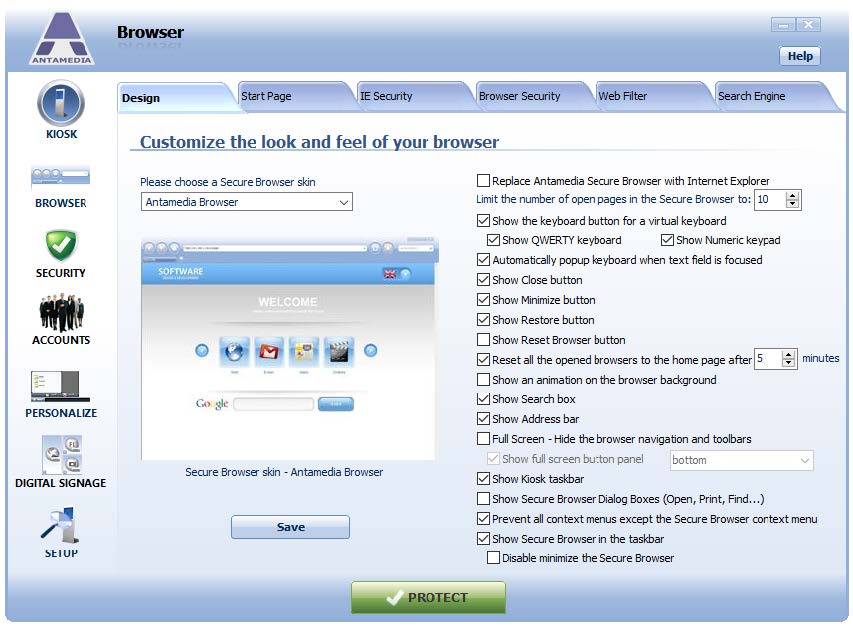 From the dropdown menu on the left side of the page, you can select one of the 6 predefined Secure Browser skins.
You can configure Kiosk to use Internet Explorer as its browser by checking the "Replace Antamedia Secure Browser with Internet Explorer" option.
Explanation of the other options on this page:
Limit the number of open pages in the Secure Browser – Use this option to limit the maximum number of opened tabs
Show keyboard button for a virtual keyboard – Hide/Unhide virtual keyboard button from browser's top bar
Show QWERTY keyboard – Enables virtual keyboard part that contains letters
Show Numeric keypad – Enables virtual keyboard part that contains number keypad
Show Close button – Hide/Unhide close button from the browser's top bar
Show Minimize button – Hide/Unhide minimize button from the browser's top bar
Show Restore button – Hide/Unhide restore button from the browser's top bar
Show button Reset Browser – Hide/Unhide reset browser button from the browser's top bar. This button closes the current instance of the Secure Browser and opens a new one. All browser history, cookies, and cache are deleted during this process.
Reset all opened browsers to home page after – Use this option to force Secure Browser to reset itself to the homepage after specified time period bar
Show animation on browser background – This option toggles animation in the Secure Browser's navigation bar
Show Search box – Hide/Unhide web search box from the browser's navigation bar
Show Address bar – Hide/Unhide URL address bar from the browser's navigation bar
Full Screen – Hide browser navigation and toolbars – Use this option to enable full-screen mode for Secure Browser
Show Secure Browser Dialog Boxes (Open, Print, Find…) – Check this option to enable showing dialog boxes in Secure Browser
Show Secure Browser in the taskbar – Hide/Unhide Secure Browser from the Kiosk taskbar
Disable minimize Secure Browser – This option is available if Secure Browser is shown in the taskbar, it disables minimizing browser by clicking its entry in the taskbar