DNS Web Filter use blacklist to filter HTTP and HTTPS traffic.
Block adult websites, drugs, alcohol, or prevent access to social networks, shopping websites, etc to increase productivity. Over 100 categories help to fine-tune filtering.
Beside many already predefined sites in the blacklist, you can add manually your own URL's.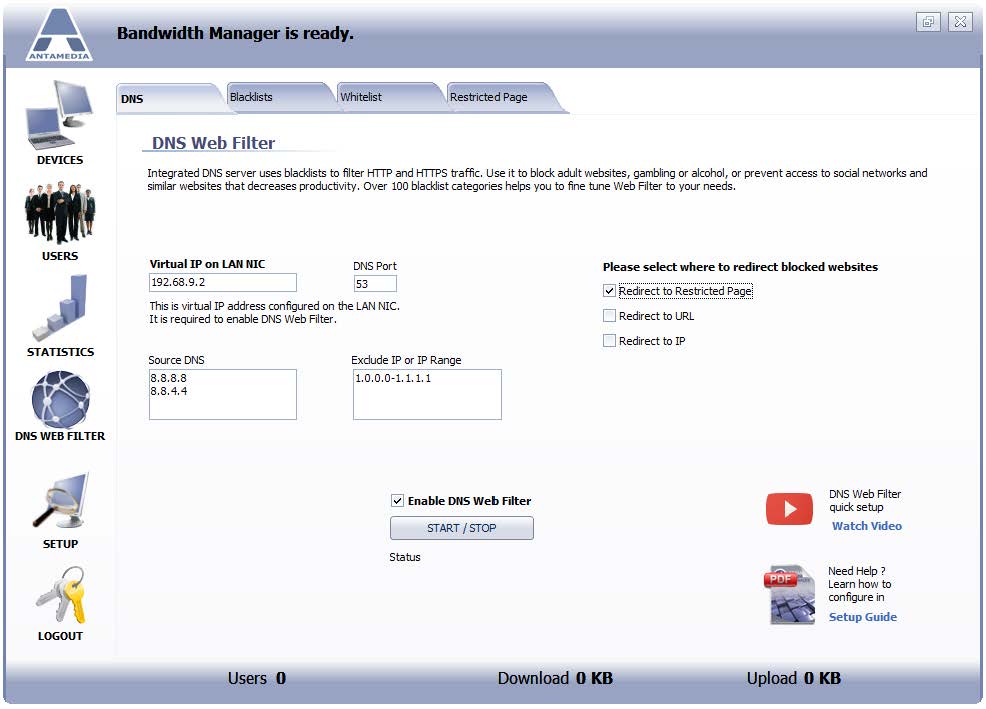 From DNS Web Filter – DNS page is required to set the following options:
Virtual IP on LAN NIC – This is virtual IP address configured on the LAN NIC. It is required to enable DNS WEB Filter.
DNS port – DNS Port over which filter is working
Source DNS – Source DNS can be predefined with default values 8.8.8.8 and 8.8.4.4
Exclude IP or IP Range – Specify IP or IP range for which filter will be excluded.
Please select where to redirect blocked website:
Redirect to Restricted page – Enabling of this option will redirect user with blocked content to the predefined restricted page
Redirect to URL –  Enabling this option will give you a field to specify the URL address of web site where the user will be redirected
Redirect to IP – Enabling this option will give you a field to specify the IP address to which user will be redirected
To activate it select Enable DNS Web Filter and press Start/Stop button.
Be sure that the computer is prepared for DNS Web Filter setup as instructed on the Network Adapters Setup page.