Antamedia Internet Cafe supports free access option, which can be used to allow a customer a free trial of your service with certain restrictions, such as limited time, data transfer, download rate, and other.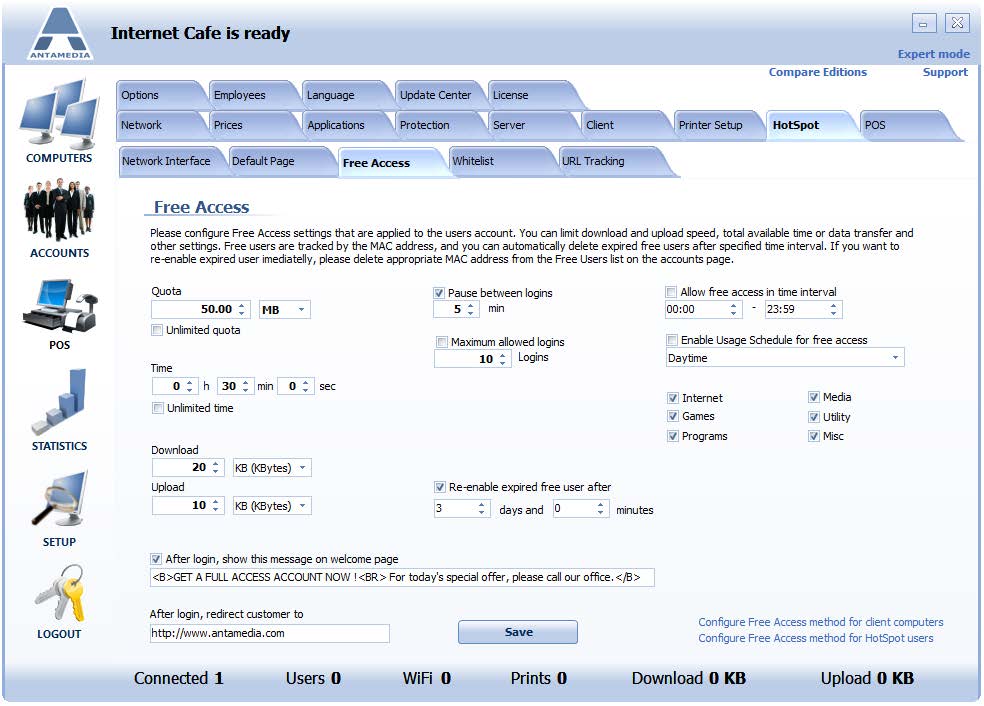 Some program categories can be allowed free of charge in a free trial. In order to get access to more programs and games, remove time and other restrictions, the customer has to buy a refill with a paid price plan.
Before this feature can be activated it must be set up properly.
To configure limits for free access, please go to Internet Cafe Server Setup – HotSpot – Free access and choose which limits will be applied to free users.
Quota – Total bandwidth traffic available to a user for downloading or uploading. It's
usually displayed MB, GB, or TB depending on the value. The quota is not a sum of download and upload traffic. If you define 100 GB as a quota, the user can download and upload a maximum of 100 GB, whichever comes first.
Unlimited Quota – Enable this option if you do not wish to limit users by bandwidth quota
Time – Time available for Computer usage. It is measured in seconds
Unlimited Time – Enable this option if you do not wish to limit users by time. It's useful if you charge users by bandwidth or users pay monthly fees
Download – Download rate limitation. Download rate can be displayed in KBytes, Kbits, MBytes or Mbits. Like 1 Mbit/s Upload Upload rate limitation
Pause between logins – User is not allowed to login more than once in a specified time interval
Maximum allowed logins – Limit the total number of allowed free logins
Re-enable expired free user after _ days and _ minutes – Set number of days and minutes after expiration after which free for the device will be available again
Allow free access in a time interval – Enable this option if you want to set time interval when free access is active
Enable usage schedule for free access – Select schedule by which free access is available
Program categories – Select program categories that are visible in the menu for free users
After login, show this message on the welcome page – Set welcome message for free access customers
After login, redirect the customer to – Specify URL address to which customer will be redirected after login